Ok, see, it was going to be Memorial Day weekend, so I took Friday and Tuesday off and had a 5 day week-end, so I went to see my Mommy in Springfield, MO. And I didn't blog while I was gone, and now, all of a sudden it has been a week. How the heck did that happen?
I left here Friday morning and got to Moms by about 1:30 so we rushed out to lunch at some tea house she was checking out for one of her lunch groups. I had Chicken Salad and it was good. Then I made her take me by Springfield's single CVS so I could decide if it was worthwhile getting her started. Oh My Goodness. Oh My Goodness. Again. They have the largest drugstore in the Nation. Uh Huh. I am now very jealous. Here it was, the end of the month and they still had all the monthly deals fully stocked.
Denise and James came over to drop off Angel, their little black poodle, and we had dinner and I talked up CVS. I had bought 6 of the ALL YOU magazines with the free Adidas deoderant coupons, so they all would get to start off with $9.98 in ECB's. Off we went. James and Denise each did 3 purchases, because they were going to be gone the rest of the week-end, and Mom did 2, ending up with $9.38 ECB's.
We went back the next day and grew her ECB's to around $26 with about a $5 oop so she made over $12 and got all the stuff below. She is going back today to use some of her ECB's to buy a small travel hairdryer, because the one she has at home is too bulky. She is picking up Denise and they are going to spend all of James' ECB's and let his card go, and just keep Denise going. Good for her!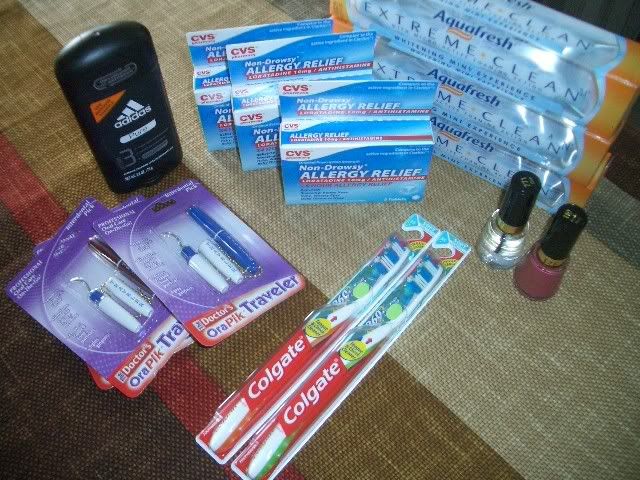 Angel was very well behaved for us, and slept with Mom at night. She knew this was a doggy bed, even if Gabriel thinks it is a toy box. She just scratched around until she had a spot big enough for her! Cute!