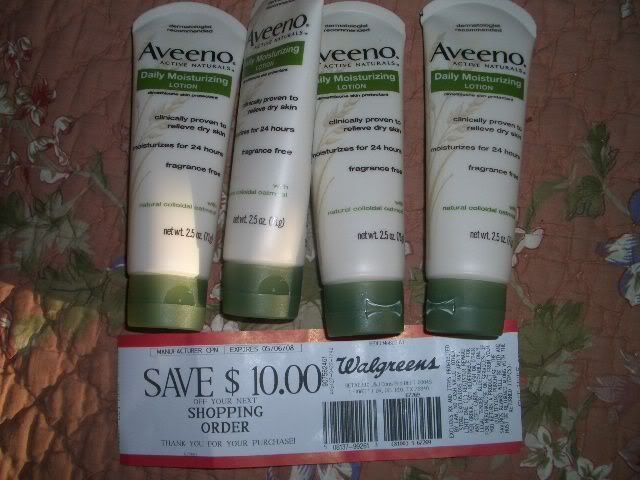 I have been making money this week, because I had some great CRT coupons and Walgreen has a special RR deal. Walgreen's Register Rewards are actually Manufacturer sponsered, just like CVS ECB's, but they have their own little quirks. This week if you buy 2 Aveeno products, you get $2 RR, 3 =$4 RR and 4=$10 RR. They also have it on sale 20% off.
I read that there were $2 coupons in a book of beauty coupons at K-Mart, which is next to my CVS in W.F., so I grabbed a handful of the booklets. The small Aveeno tube was $2.63 on sale, making a total of $10.52 -8.00 in coupons = $2.52, but generating $10 RR. I have done this 3 times this week. The tax was .82 for a total of 3.34 X 3= $10.02 but I now have $30 in RR. The quirk in RR is that I can use them to buy more Aveeno, but if I do, another one will not be generated. If I use them to buy something from another manufacturing company, that is also generating RR, it will work. I can use them on something that is in their rebate book, or just spend them like cash, but once you get started, you just want to roll them over!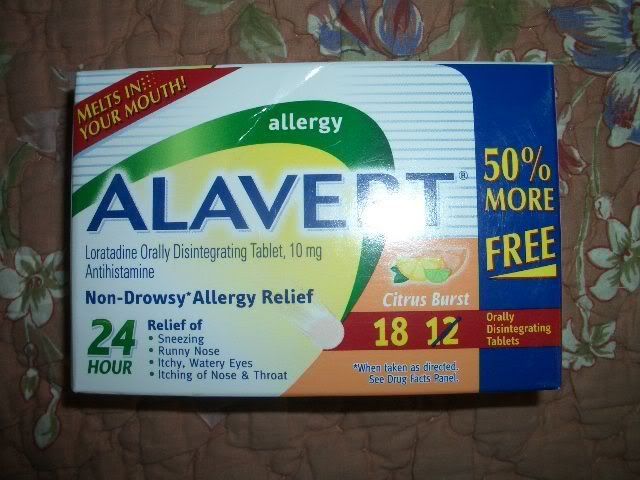 I got a new $25 gift card for CVS from MY POINTS and thought we should keep track of how far it goes this time. I had bought the above Alavert before the card came, so it won't count, but I have to tell you about it. There were $4 printable coupons available on the internet, and I had a $2 CRT from CVS. They are on sale this week for $6.99, and are generating $4 ECBS. Oh yeah. So I paid 1.05 and got back $4. -----$2.95 profit plus the Walgreens profit above puts my total at $22.93 profit so far.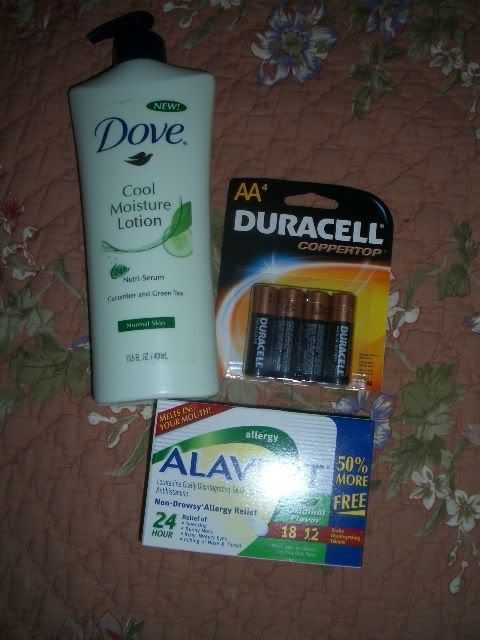 I had a $5 duracell CRT, and a $2 Dove CRT. I still had a $4 coupon on the Alavert. Before this first deal on my new card, I had 2, 4, and 3.99 ECBs. The duracell had a peel-off .50 coupon. I had $1.50 coupon on the dove, and I had purchased some earlier so only needed 7.01 for a 5 ECB. (buy 15, get 5)
alavert 6.99-4 +4 ECB
Dove 7.99-2 +5 ECB
Duracell 4.79-5.50
19.77 plus tax put me over $20. I used my 4 off of $20 coupon, the 4 alavert coupon, $7 crts and 2.50 other coupons. I handed over my 2 ecb and paid .84 on my card. I now have a balance of $24.16. I also got 9 in ecbs. 9-2 ecbs and .84 means I made a profit here of $6.16. So the total profit so far this week is $29.09 and it is only Tuesday! My ECBs are now up to 16.99 from 9.99, but that is included in the $29.09 profit.
I want to emphasize this, because that is money that can then be spent on those items that rarely get coupons, like meats and milk. You can say, I never use those things so why would I buy them, but they generate cash like usable income to cover things you do use. Yes, it is work and if you don't enjoy doing it or get a kick out of it, then it probably doesn't have a big enough payoff for you. But if you are like me, it is a game with a little profit built in!